Learn about your business auto insurance declarations
When you purchase a business auto insurance policy from Allstate, you'll receive policy declarations. This document "declares" the choices you've made for your policy, such as deductibles you've set and any optional protection you may have purchased.
You'll receive new policy declarations each renewal period, which is typically every 12 months. You should always read through your renewal documents to make certain you're up to date on the latest features of the policy, any changes in premiums or other important information.
How to read your business auto insurance policy declarations
Review the sample Declarations below to learn where to find some important information.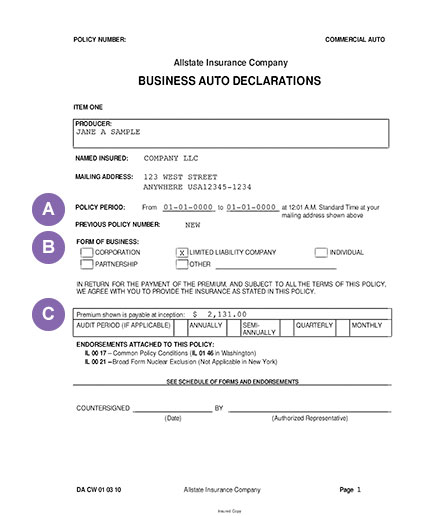 Policy period
Business auto policies typically cover a one-year period.

Form of legal business entity
This should accurately reflect how your business or organization is set up.

Total premium
Each vehicle and additional coverage has its own premium, which is the amount you pay for your insurance. The total shown here is for all the vehicles and coverages on your policy.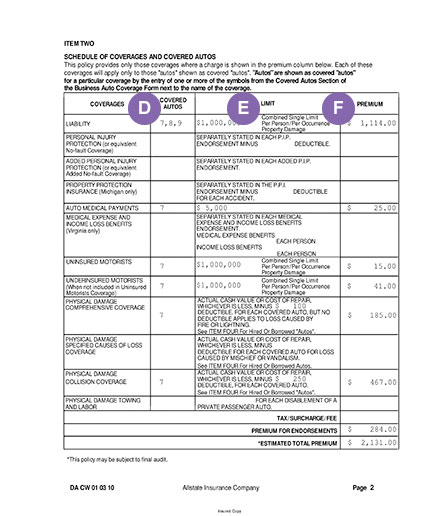 Covered autos
This column will include symbols that correspond to different types of vehicles to which each coverage applies.*

Coverage limits
This shows the maximum limit Allstate will pay for each covered accident**, for each type of coverage.

Premium
This column shows the amount you pay for each coverage on your policy.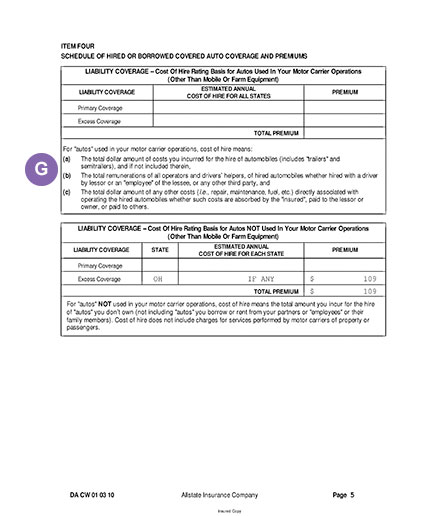 Hired or borrowed coverage
This section includes details about coverages for vehicles you rent on a short-term basis.
* See the "Description of Covered Auto Designation Symbols" section of your Business Auto Insurance Policy for information about covered vehicles.
** "Covered accident" is an insurance term that means an accident that falls within the bounds of the policy.