Boat insurance policy declarations
Along with your Allstate® Boat Insurance purchase you'll receive a Policy Declarations. This indicates the choices you've made for your policy including coverages, deductibles and coverage limits. Each renewal period, which is typically every year, you will receive a new Policy Declarations.
Check your Policy Declarations to make sure all of the following information is correct: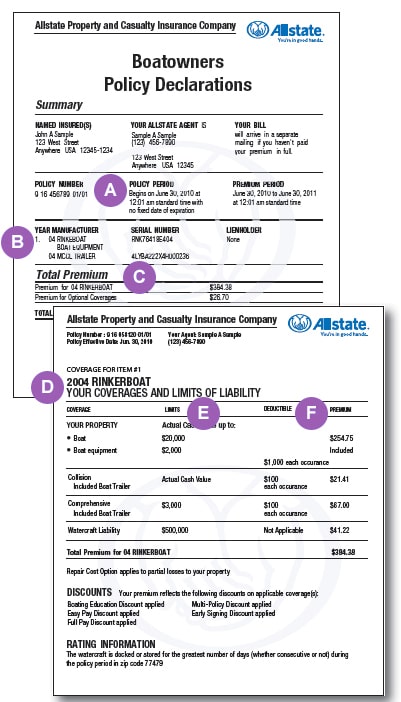 Policy period
When you pay your premium by the due date, your policy automatically continues for the time period shown, which is usually 12 months.

Boat(s) covered
These are the boats listed on the insurance policy.

Total premium
Each boat you insure has its own premium amount. The total is for all listed boats for the policy period combined.

Coverages
If you have more than one boat, each boat's coverages will be listed on a separate page.

Coverage limits
This shows the maximum limit Allstate will pay for each covered accident*, for each type of coverage.

Deductibles
This shows how much you will pay out of pocket for damage to your boat for each covered accident*.